---
26-28 September 2014
Trieste
Researchers, entrepreneurs, journalists, policymakers, and students will gather in Trieste for EnergETHICS, the third TriesteNext science fair
Many events hosted in attractive locations across the city will be dedicated to the present and future trends in Energy, exploring the impact of production and use of energy, with special attention to the latest scientific innovations arising from close interaction between science and industry.
One event will be dedicated to nuclear fusion, the energy of the stars, and will shed light on the current status of facilities and projects dedicated to developing fusion for energy.
---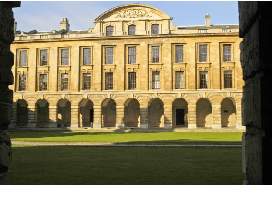 14-18 September 2014
Queen's College, Oxford, UK
Organised by the Science and Technology Facilities Council (STFC) and AWE plc
We are pleased to invite you to participate in the 13th International Workshop on Fast Ignition of Fusion Targets, taking place from September 14th-18th 2014, in The Queen's College, Oxford. The workshop, held every two years, brings together the leading international researchers in the field of Fast Ignition Inertial Confinement Fusion (ICF).
This workshop will continue the series of successful International Workshops on Fast Ignition, the most recent of which were held in Napa, California (2012), Shanghai, China (2010), Crete (2008), and Boston, USA (2006). The program will include oral and poster presentations as well as discussion sessions focused on the current status of Fast Ignition research and mapping out strategic directions going forward. The meeting will follow the same informal, interactive atmosphere of past workshops in the series.
Topics include:
Electron-based fast ignition schemes
Proton/ion-based fast ignition schemes
Integrated target designs
Relativistic intensity laser-plasma interaction physics
Fast electron generation and characterization
Fast electron transport in dense plasma
Intense particle beam acceleration
Implosion physics
Innovative concepts (including shock ignition etc.)
---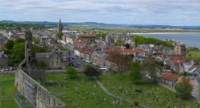 6-11 July 2014
University of St Andrews, Scotland
A meeting comprising oral and poster presentations at which we would like to see all previous attendees and hopefully many new ones in 2014. Group leaders are encouraged to inspire young researchers and scientists to attend.
---
30 June - 11 July 2014

Rethymno, Crete, Greece
TEI of Crete/CPPL and the organising committee welcomes you to the European Erasmus IP on
"An Introduction to High Power Light-Matter Interactions" (HIPOLIN).
HIPOLIN is an intense training course funded by the Erasmus IP action.
One of the most exciting areas of science and technology during the last two decades is that of high power laser light interactions with matter. This is because nowadays the power of laser light has reached the PW (Petawatt) regime, at which phenomena which could not be investigated before can now be explored in the lab. The output of such research is new fascinating science from the atomic to the universal level and technological applications, ranging from medicine to energy production, and all relating directly to improving the quality of life for mankind.
---
23-27 June 2014

Berlin Congress Center, Berlin
We would like to cordially invite you to the 41st EPS Conference on Plasma Physics in Berlin. This conference continues a series of meetings on plasma physics encompassing the fields of magnetic confinement and inertial fusion research, beam plasmas, laser-plasma interactions and dusty and low temperature plasmas, as well as space and astrophysical plasmas and basic plasma research.We look forward to meeting you in Berlin !
---
16-19 June 2014
Czech Technical University in Prague, Faculty of Electrical Engineering Technicka 2, Prague 6, Czech Republic
Main Topics:
Tokamaks and other magnetic confinement devices. Short lived plasmas (plasma focus, z-pinch, particle beam/plasma interaction, X-ray sources)
Laser plasma
Non-equilibrium low temperature plasma
Thermal plasmas
Plasma in technology, biology and medicine
Fundamental plasma physics
Plasma theory and simulation
---
19 April 2013

Prague, Czech Republic
---
17-18 April 2013
Prague, Czech Republic
---
15-18 April 2013
Prague, Czech Republic
---
11 April 2013

Prague, Czech Republic
---
11 April 2013
---

26-28 March 2014
The 8th International Workshop of High Energy Class Diode Pumped Solid State Lasers (HEC-DPSSL)
Lady Margaret College, Oxford
This event is devoted to the development of HEC-DPSSLs worldwide as an enabling technology for applications such as inertial fusion energy, particle production (electrons, protons, neutrons, ions), radiation production (x-rays, gamma rays), high-energy-density science, shock physics and material science, and the use of these types of lasers for commercial applications.
---

14-17 March 2014

Grand Connaught Rooms, London
This conference covers all disciplines, including Magnetic and Inertial confinement fusion, Astrophysical Plasmas, Low Density and Technological/Industrial Plasmas, High Energy Density and Laser Plasmas, Dusty and Complex plasmas and Non-neutral plasmas, Plasma Surface interactions, Plasma Applications including Medical applications and Plasma Diagnostics.
---

5-7 March 2014

University of Bordeaux (Talence Campus)
Programme:
Advanced Ignition schemes for Internal Fusion
Plasma diagnostics
Secondary sources of particle radiation
Laboratory astrophysics
Visit of LMJ-PETAL facility
PETAL Scientific Advisor Committee (TAC) meeting
PETAL + Technical Advisor Committee (TAC) meeting
COST MP1208 Management Committee kick-off meeting
COST MP1208 Working Group meeting
---
26-31 January 2013
San Francisco, US
---
19-21 December 2012
Cosener's House, Abingdon, UK
---
5-10 November 2012
CA, USA
---
29 October 2012
Providence, RI, USA
---
14-18 October 2012
Rochester, US
---
8-13 October 2012
San Diego, USA
---
24 September 2012
Faro, Portugal
---
23-26 September 2012

Colorado, USA
---
17-18 September 2012

Romania
---
16-21 September 2012
Madrid
---
12-14 September 2012
Granlibakken Convention Center, Lake Tahoe, California
---
10-14 September 2012
Warsaw, Poland
---
10-14 September 2012
Istanbul, Turkey
---
3-6 September 2012

Durham, UK
---
29-31 August 2012
University of Glasgow, UK
---
26-31 August 2012

Stockholm, Sweden
---
19-23 August 2012

Mainz, Germany
---
12-16 August 2012
San Diego, US
---
16-27 July 2012
Rethimno, Crete, Greece
---
8-13 July 2012

Lausanne, Switzerland
---
8-12 July 2012
Edinburgh, UK
---
1-3 July 2012
Banff, Alberta, Canada
---
18-21 June 2012

Prague, Czech Republic
---
11-12 June 2012
Cosener's House, Abingdon, UK
---
4-8 June 2012
Stockholm, Sweden
---
20-24 May 2012

Santa Fe, New Mexico
---
7-12 May 2012

Tallahasse, Fl, USA
---
6-11 May 2012

Monterey, CA
---
6-11 May 2012
San Jose, CA
---
25-29 April 2012

Yokohama, Japan
---
25-27 April 2012
Rochester, NY, USA
---
16-19 April 2012
Brussels, Belgium
---
15 -20 April 2012

Dresden, Germany
---
2-5 April 2012
St. Hugh's College, Oxford, UK
---
2-4 April 2012
University of Brighton, UK
---
19-21 March 2012

Berlin
---